Hi all – let us tell you about Rakuten's cafeteria (canteen) this time. Rakuten has 2 cafeterias in Rakuten Crimson House building, and another in Futako-Tamagawa Rise office building, so 3 in total. Today's story is about the cafeteria on the 9th floor of Rakuten Crimson House.
It might be widely known that Rakuten offers 3 meals/day (breakfast, lunch, and dinner) for our employees as a part of their benefits, but actually it is not just for free, but there are so many attractive, amazing features about them. Let's look at them -

You'll never get bored! – something new every day, too many choices!

First of all you would be amazed to see that they offer 9 different line-ups on a daily basis, including Main A/B/C, Ramen, Udon, Soba, Pasta, Curry, Rice with toppings, and Meat/Fish grills, etc.
In addition, they often hold seasonal events so that you can enjoy some special foods from local areas of Japan or other countries, so you will never be bored! When we visited there for this article, they were just in the middle of "Kyushu Fair".
You can select 1 main dish out of 9 offers above, and add rice, soup, side dish and dessert as a basic set. For soup they have miso, western, and Chinese to select from. Side dish and salads can be self-served from the buffet; some people take a lot of amounts so the foods are nearly falling off from the small container as refills are prohibited!!
Another great thing about Rakuten cafeteria is that they also offer Halal (permitted by Islamic rule) foods and vegetarian menu etc., as part of their respect for diversity of its customers who are from more than 70 countries / regions.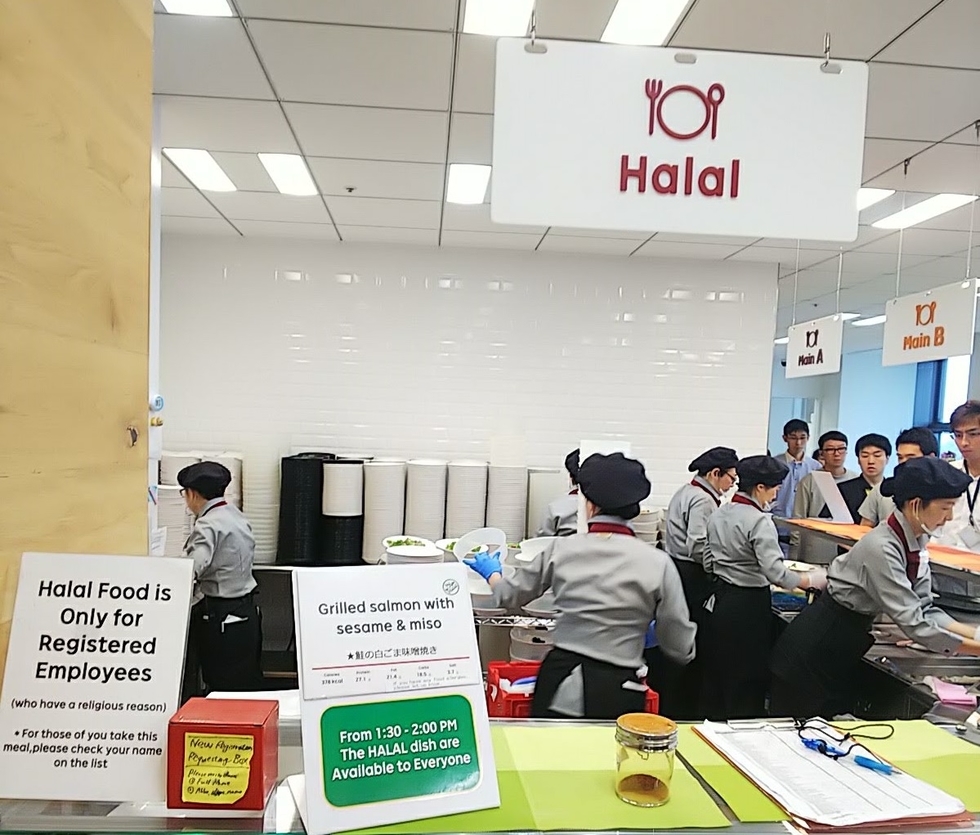 See our selected dressings and desserts!

For salads, daily choices of dressings are available, and of course they haven't forgotten about non-oil users! Also you can use other seasonings or spices so you can make your own favorite taste.
Desserts are always fun – with choices of yogurt, jelly, or sliced fruits, and even some "season's special" are available! Last week they had the "moon-viewing dumplings"!
And… their "secret" popular item is natto! They serve tons of natto every day! Yes I know you want to take as many nattos or desserts as you want on your tray… but the rule is 1 item each per person. Keep it.

Loooong queues during lunch time, but what do they do to avoid a mess?

A queue is there at 11AM when the cafeteria opens and seats are quickly filled. You may be at a loss as to where to go to get your food… BUT! there are color-coded lines on the floor for each menu so you can just follow them. It is a smart idea to avoid a mess and unnecessary confusions.
Another convenient tool is the "Cafeteria Crowdedness Indicator" that are shown on the screens on each office floor, a great invention by the Rakuten Institute of Technology. Employees can refer to that indicator to check the crowdedness before going to the cafeteria.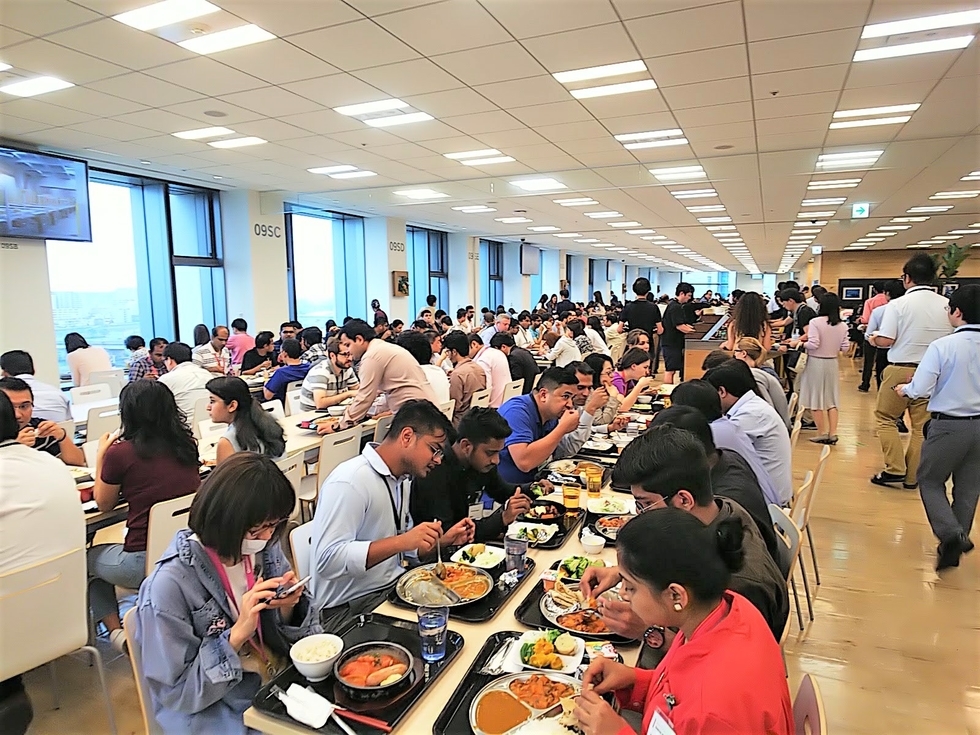 Be a Comfortable Place for All – care of all users

There are priority seats for wheelchair users, where you can change the height of the table by just hitting the button. You can see these facilities are designed to make everyone's lunch time comfortable, including those on wheelchairs.
At the end of the cafeteria space they have shelves with books and magazines, of course for a free reading for employees which you might enjoy during the café hours. On the wall you see a variety of notices / posters about the internal events / social club activities so you can enjoy checking those information while you are walking along.


Rakuten cafeteria is certainly a place we are proud of; where employees enjoy communication together, have meals together, then go back to work together with charged & refreshed mind & body!

Comments from the author:

My lunch used to be either from convenience stores or to eat-out… but now I realized the importance of everyday meals after started utilizing the Rakuten cafeteria: "I am taking good things into my body!". And the nice view of Futako-Tamagawa from cafeteria is a good healing as well; so the cafeteria is the origin of Rakuten employees' powel