* This article wrote in February. We are currently working from home.
[HQ measures as of Tuesday, March 17] (April 30 updata)
・ In principle, we work from home, unless business needs,legal requirements, or Information Security Policy requires that you come to the office for work.(Target Employee: Executives, Full-time Employees, Contract Employees, Part Time)
・Rakuten Sponsored Events: must be postponed or canceled as a general rule
・On-site meeting with guests or usage of meeting room is prohibited.
・Participating in on-site meeting held by clients, vendors or customers is also prohibited.
・Avoid non-essential domestic biz trips
(This policy is for group companies in Japan)
Detail→<https://corp.rakuten.co.jp/news/update/2020/0317_01.html?year=2020&month=3&category=corp%20ec
https://corp.rakuten.co.jp/news/update/2020/0408_02.html
Hi, there. This is R-Hack editorial office.
Many companies have started WFH (working from home) and staggered working hours, and have been introducing their own examples. Rakuten encourage WFH as well, and employees of Commerce Tech are steadily starting it!
Current our office is like this.
There isn't anyone.
Usually, more than 10,000 employees are working at Rakuten. There are often lineups for elevators and rest rooms depends on the time, but it is very unusual now.
Also, for countermeasures of coronavirus, opening hours of many internal facilities are different from usual.
Some people might feel anxious and have questions when they start WFH, like "How can I do that?" or "Is that really okay if we cannot communicate face to face?"
So, this time, we would like to share with you about the state of WFH and WFO (work from office)!
What's the necessary tools for WFH?
Before beginning WFH, preparation for PC environment is needed. In Commerce Tech, we prepared laptops in a tremendous hurry to distribute them to all employees regardless of the kind of work and hiring system in the next few weeks.
At Rakuten, tools, which is needed for work, are originally aggregated online, so employees can start WFH smoothly if tangible factors are prepared.
Tools, which are used at Rakuten, are following;
+Passing Date: Box (
cloud
storage
)
+Task management: JIRA (project management tool)
+Sharing document: Confluence (sharing information tool)
+Meeting: Zoom (Web conference tool)
+Communication tool: Teams (group chat software), Viber (chat app)
They can communicate with team members as usual with the above tools, even if some of them are working from home.
They can text anytime on the chat app. Furthermore, both WFH and WFO employees are connected by Zoom during their working hours, so it allows them to talk soon as if you are close!  
A day at office

-

after introduction of

WFH
In the morning, a regular meeting starts. WFH employees are joining it via Zoom like this.
Sound is constant, that is not hard to listen and speak.
When feeling like having coffee or snacks, they usually buy them at Rakuten Crimson Store (onsite convenience store), it is temporarily not available now.
However, such a great service is available!
That's a mobile convenience store! That's like a on board food service on the Shinkansen?!
That's a small wagon, but they have a great selection of items, like hot coffee, breads, snacks, and so on!
The time the wagon comes is depend on the day and the time. We, R-Hack editorial office and other departments, are extremely happy when it comes! We bought something as soon as they came. Rakuten Pay is available for the payment, of course.
*Rakuten Crimson Store has reopened for shorter working hours on 9th floor only, from March 16. 
At lunch time, we usually go to the cafeteria, but now it is temporarily closed as well. But complementally lunch boxes are prepared instead! Although we cannot have lunch with co-workers, it is great that delicious lunch box is ready. Rakuten Crimson House has two cafeterias on 9th and 22th floor, and they prepare different lunch box.
This is the 9th floor. They serve different lunch box for each day. You can choose your preferred one, meat or fish.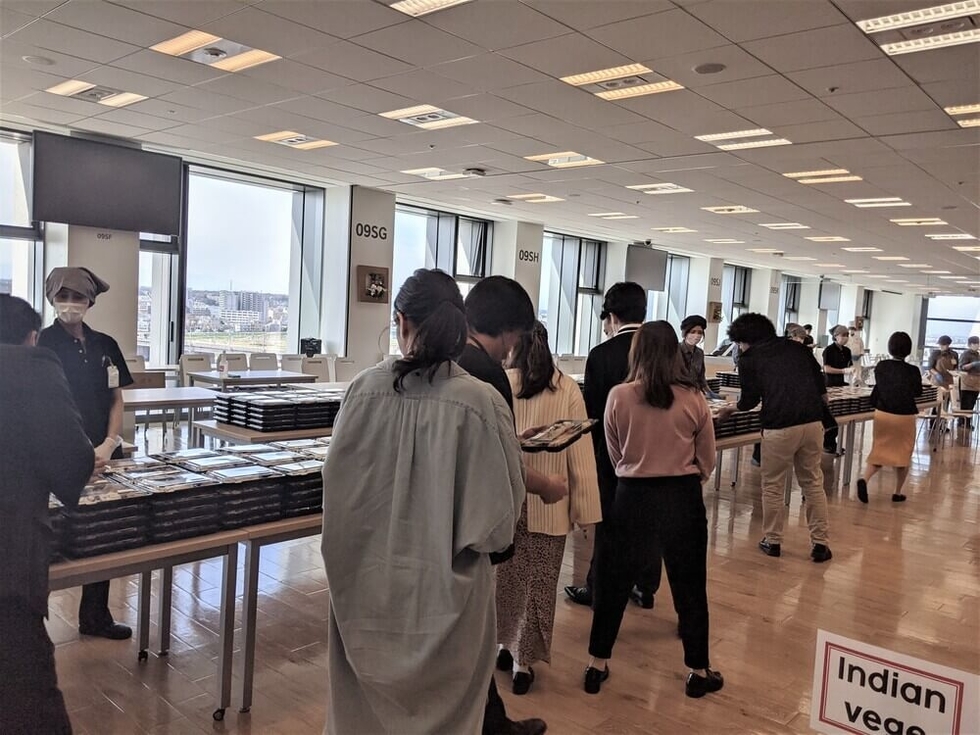 They have one for Indian vegetarian and halal as well!
On the other hand, the cafeteria on 22nd floor has a variety of lunch box.
I chose "Stir-fried beef and egg with black pepper source" today!
Well, many employees need exercise to offset sitting all day due to WFH and online meeting.
So, some people have started this one!
Radio calisthenics!
How many years has it been? Perhaps, I haven't been doing it since I was an elementary school student…? It's a good exercise!
Also, stretch videos are available on our intranet for desk workers.
It provides them how to stretch that enhances blood flow and lose up the muscle. It is easy to do at office and home, so I should start them soon! 
Then, they greet "Have a nice day!" via Viber and finish their work for the day.
Even if they cannot see them face to face, and the office facilities are temporarily closed, the environment for comfortable working is maintained.
It doesn't have much effect for our work than excepted?! Let us share feedbacks of WFH.
We interviewed members who are working from home to obtain pros and cons feedbacks!
Pros:
+ Can concentrate on work with a quite environment
+ Can do detailed work at home since sometimes be interrupted at office
+ No commute time makes surplus time, can do house chores, can do both house work and work
+ Liberation from commuting on packed train!
Cons:
+ Long time working with unfitted desk and chair makes me tired
+ Lack of exercise. Don't walk at all
+ Feel lonely, hesitate to speak to co-workers via Zoom
+ Hard to work with one laptop since usually use desktop PC at office
WFH doesn't have much effect for work so far than we expected. It has more positive feedbacks than negative one even if some employees suffer inconvenience.
There are many feedbacks that say "Can concentrate on work", so it can be said that operational efficiency improvement is benefit. Ideally, it can be perfect if your preferred chair and PC are prepared.
On the other hand, some of them feel lack of communication even if they use online communication tools as they can't make small talk so much.
Both WFH and WFO have benefits, so I think we should have an appropriate balance of work style.