We have a number of new joiners every month; now we would like to introduce those successful new hires in this series.
Surprisingly, some people come from completely different industries- the first story is about Masao, who was hired as a tech producer, who's previous job was a patissier (pastry chef).
Masao's profile
Masao was hired as a development producer of Rakuten GORA 5 months ago (as of October 2019), changed his jobs from a patissier. Currently he hasbeen working on improvement of the development process within GORA as well as defining system requirements. One of the difficult things for him is that he has to obtain a huge volume of knowledge about the existing functions of the system as he is still new to the firm.
Masao is actually not a golf player, however he thinks it is rather a strength of him who has a fresh set of eyes as to "What services would "I" need, if I were to play golf."
What was Masao doing as a patissier?
Masao started his career as a patissier in France where he was engaged in production of sweets in the morning then worked at a chocolatier in the afternoon. He made a quick adjustment to that environment in a few months so he got responsible for supporting some freshers there. Wow -isn't he great? Masao told us he is good at making millefeuille, which I (R-Hack writer) love! I could not help but asked Masao to teach me how to make millefeuille.
Why a Tech Producer, from A Patissier?
Masao applied for a tech producer position because he was interested in learning about "Business side of the product, not just the development side". He had personally studied about engineering but was wondering how a business team would make requests to tech team to develop a product, in cases like big projects. Also he thought a common thing between patissier and tech producer is "producing" =a patissier "produces" all processes for selling the sweets, and a tech producer at Rakuten "produces" a new release by coordinating the demands from business side and digests them into the product design for engineers, which is called a "producing" in Japanese contexts.

Additionally, these jobs are "similar" in terms of "thinking about the user of the product, maybe not that similar though", Masao modestly commented. "For sweets we think about the people who eat them, and for Rakuten GORA we think about the user of GORA".
Any new findings after joining Rakuten?
"Nothing's really different before and after joining Rakuten", Masao said. "I think the strength of the firm is having producers, engineers and quality assurance staff altogether so we can intensively discuss and make development processes very speedily." Indeed, it is a great point of Rakuten!
How was the interview process?
Masao had 3 interviews (*the process differs by departments/groups etc.) during which the thing that had the greatest impact on him was "Interviewers were kindly listening to me very carefully and trying to understand what I was talking about", and also "one of the interviewer said 'why don't you be an entrepreneur within Rakuten?' when I mentioned about my ambition to be an entrepreneur, during the interview". What an amazing comment by an interviewer! Actually we do have a system called R-Pitch at Rakuten which encourages employees to make proposals for creating a new business within the firm. A winner of R-Pitch competition can launch a new business of Rakuten.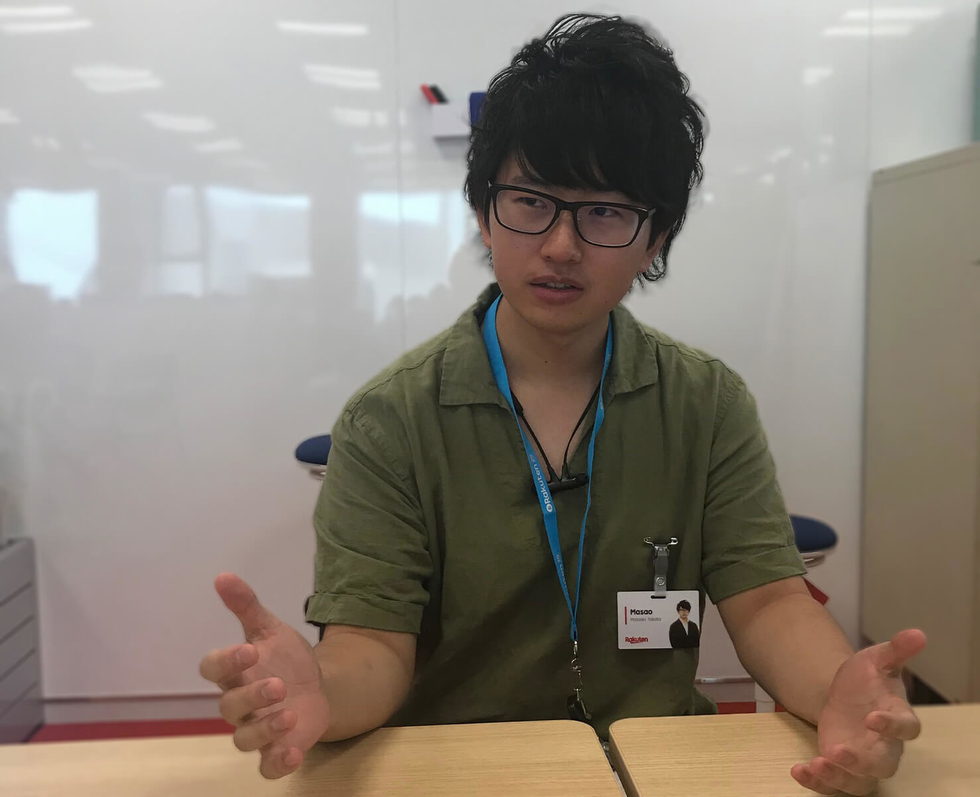 Future Career Plans
Masao's current objective is "to reduce the number of steps in the development process of current project, as the tech producer of Rakuten GORA business." "And as for a long term goal in my career, I would like to be an entrepreneur around 6 years later. I would like to produce a system that helps everyone to be good at cooking, and to present quantitative facts in cooking which used to be dependent on people's sense and feeling so far, also to establish the data for making great meals, based on my experience as a patissier."
Message from Masao to R-Hack readers:
"At Rakuten you can have free meals 3 times / day, also the office location is great that you can find a good residence close to the office so you can concentrate on your work. Anyone who wants to work energetically- why not applying for Rakuten GORA!?"
So who's the next new comer? Keep an eye on us!
The service Masao is in charge for
Rakuten GORA: one of the largest reservation systems for golf courses in Japan. Single players or Competitions are all welcome; and you can also book the golf courses in overseas locations. Golfers please DO try GORA!