Puncoz joined Rakuten Group to fulfill his dream to work on large-scale system development. He hopes to utilize his seven years of SE experience gained in his home country, Nepal, to create exciting products and have a positive impact on society.
Puncoz
Joined Rakuten Group mid-career in October 2022
Department…Dream Product Section, Leisure Product Department (LPD)
Post…Application Engineer
Origin…Bhojpur, Nepal
Hobby…PC, reading, travelling, etc.
To Rakuten Group, to utilize SE experience gained in Nepal
――Can you start by introducing yourself?
Hi, I'm Puncoz. I came all the way from Bhojpur, a mountainous village in eastern Nepal.
Nepal is a landlocked country in South Asia bordered by China and India. It is popular for its Himalayas region with eight of the world's ten highest peaks above 8,000m, including the world's highest Mount Everest "Sagarmatha".
Nepal is also the birthplace of Buddha. I recommend everyone to visit Nepal once in their lifetime.
Talking about myself, I am a software engineer with an academic degree in electronics engineering. I spend most of my time sitting in front of a computer writing code, reading articles, or playing computer games. Other than that, I also like to travel.
――Please tell us about your career before joining Rakuten Group.
I started my programming journey at my university. There I used to code for robots, and now I am writing code for humans.
Before joining Rakuten Group, I worked as a software engineer in Nepal for five years, and the last two years I worked remotely for a Japanese SaaS company.
In these seven years, I was involved in various projects where I learned and shared various cutting-edge technology and stacks.
――Why did you decide to join Rakuten Group?
I always wanted to work in a larger company with a huge number of requests per minute (RPM) and a user base.
In fact, before getting to know Rakuten Group well, I only knew about Viber. Viber is a very popular messaging app in Nepal. But after starting to work remotely for a Japanese company, I came to know about Rakuten Group and its other businesses and services. It was then that I started to think about changing jobs.
I was involved in architecting systems, planning projects, and designing databases at my previous company. I thought that all these experiences would be useful for the work at Rakuten.
At the same time, I would be able to connect all the bits of knowledge that I gained in my previous company to make something more exciting which eventually, I hope, will create a positive impact in society. This is why I decided to change jobs.
Rakuten Group members are always willing to give a helping hand
――Please tell us about the current work you do.
I'm an Application Engineer for the Leisure Product Department (LPD).
Here I am on the Rakuten K Dreams team, and our major product is Keirin service. Rakuten K Dreams is an internet voting site where you can enjoy voting for bicycle races throughout Japan.
――How is the team atmosphere?
The team consists of around 20 members including PDM and engineers. It's a global team where we come from different countries and cultures, but we still share a common culture of sharing and learning knowledge. In meetings, we mostly use English as our communication language.
It's not just my team, I find the people working in Rakuten Crimson House to be really cool and friendly with a global working style.
――How has it been after actually joining the company?
I was welcomed and guided by my mentor from the very first day, so I felt really comfortable starting my work.
From the first day, an onboarding session was given by my team members, and we also went for lunch. Everyone was very friendly, so I talked about anything. When I didn't understand something, I asked questions over and over again, but still, they were very patient and helped me.
We are a diverse team with members from many different countries and regions, but everyone is so helpful that none of them hesitates to help each other, whether for official or non-official matters.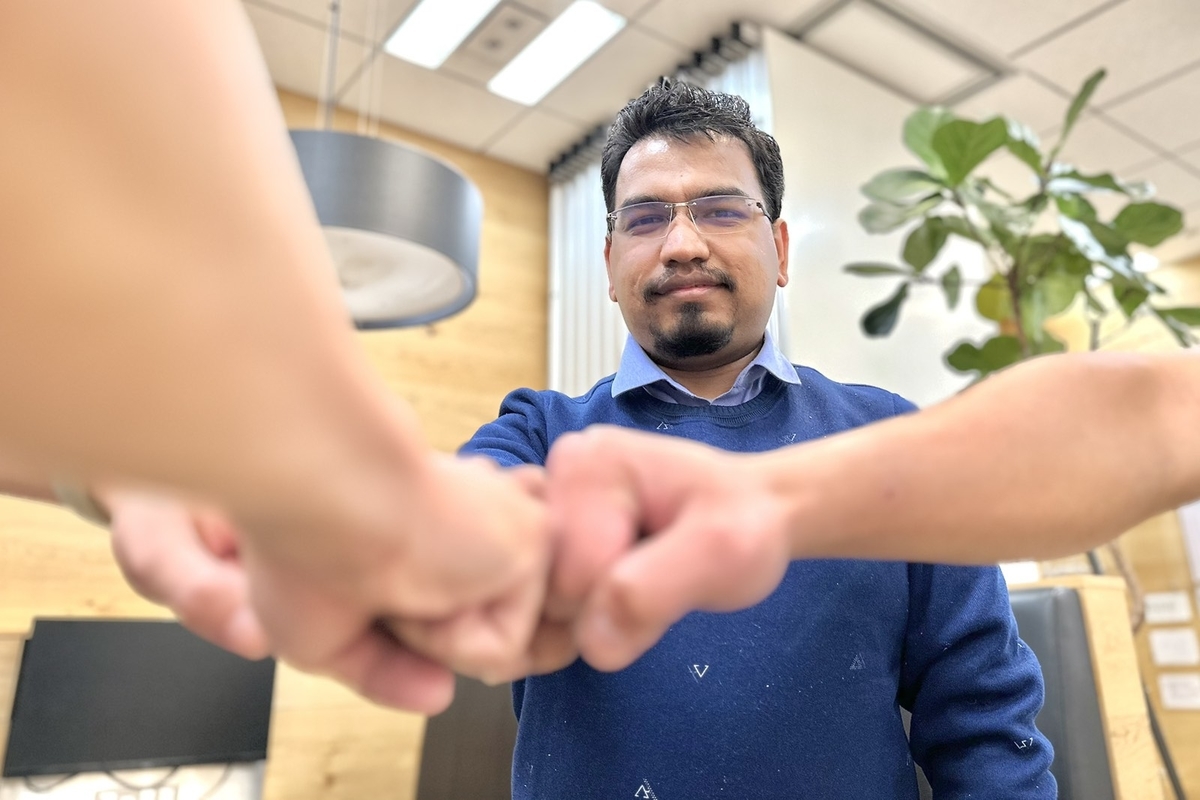 Share experiences and knowledge with the team, learn from them as well
――Please tell us about your future career plans.
First, in the LPD Dream cycle racing team to which I belong, I would like to improve the quality of the product by standardizing the system architecture and coding rules.
I believe that contributing to build a more stable system through this kind of work will enhance my personal skills as well.
I would also like to share my knowledge from my past experiences with my team members, and at the same time, learn from them myself so that my team and I can grow in a good cycle. Everybody here is very good at what they do, so I will also focus on my strengths and weaknesses to comply with Rakuten Shugi.
――Lastly, can you give a message to those interested in joining Rakuten Group?
If you are looking for a good company with a multicultural environment, then Rakuten Group is the best. Even if it's a Japanese company, English is the official communication language, so there won't be any language barrier.
Rakuten has a lot of services, so I'm sure you will find your field of interest to work with.
――Thank you for the interview.
Come work with us!
Leisure Product Department (LPD) is looking for colleagues to join our team in developing new services, performing daily operations, and making improvements! Recruitment is open for a wide range of positions, including engineers and product managers. We look forward to your application.