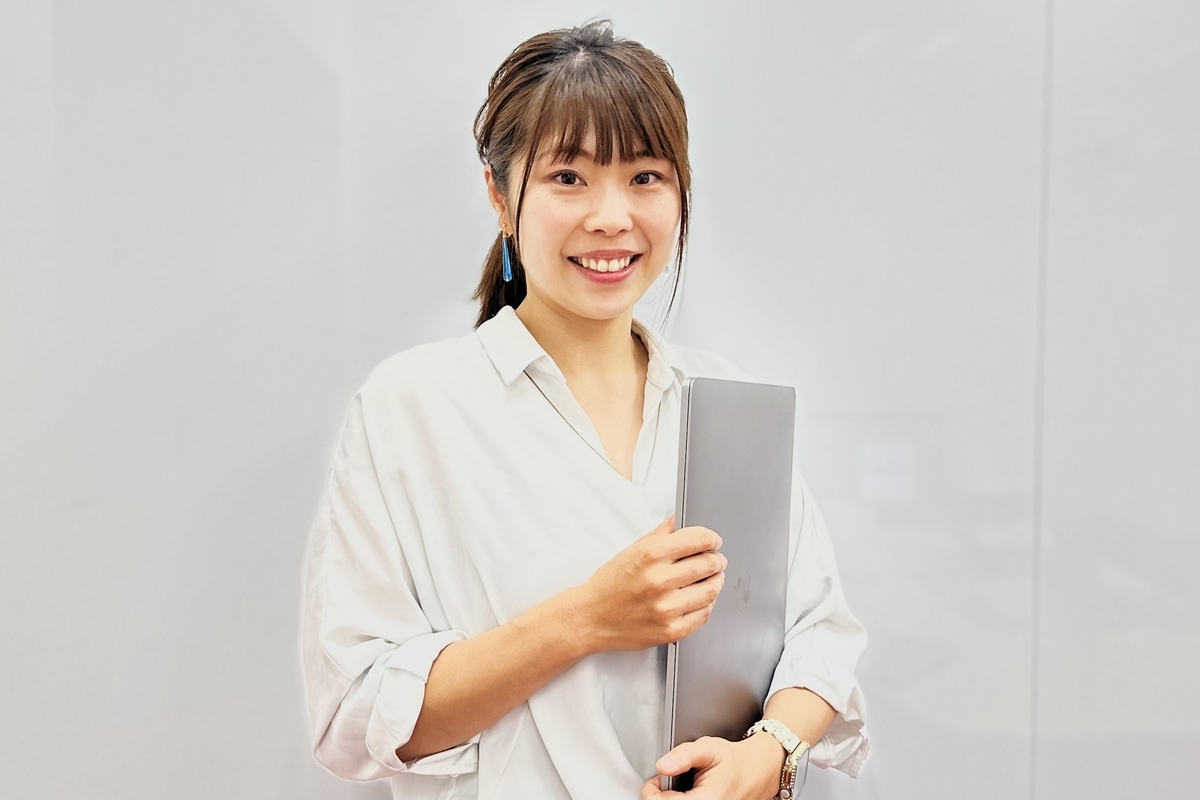 Katsuo
Joined Rakuten Group in April 2011 as a new graduate
Department…Leisure Product Department (LPD)
Post…Product Manager
Origin…Kochi Prefecture
Hobby…camera, photography
Hi, this is R-Hack editorial office. Katsuo is the mother of two boys, one in elementary school, the other in kindergarten. She joined Rakuten Group in April 2011 as a new graduate, and after taking maternity and childcare leave, she is now working as a Product Manager in the Leisure Product Department (LPD). We asked Katsuo, who has a vision to improve her management skills as a leader and to work on human resource development while seeing services from a broader perspective, about how she joined the company, what she finds rewarding at work, and her environment as a working mother.
Decision to join Rakuten Group came from discovering the joy of service development through internship
--Can you start by introducing yourself?
Hi, everyone, this is Katsuo. I'm involved in the development of Rakuten GORA, the golf course reservation site. I joined Rakuten Group in April 2011 as a new graduate and after taking two maternity and childcare leaves, I am now working as a Product Manager. I am a working mom raising my oldest son who started elementary school and my second son who started kindergarten in the spring of 2023. My hobby is taking photos of my children with my "buddy" SLR camera. My photo has actually been displayed in Tokyo Station!
--Katsuo, you majored in mechanical engineering and studied small precision components at your university. You mentioned that it was after you joined the company that you learned programming. How did you decide to join Rakuten Group?
Originally, I wanted to join a manufacturing company, so I focused my job search on machine manufacturers. But when I participated in Rakuten Group's internship program (in Japanese only), I strongly felt the joy of developing services and that I wanted to deliver something that makes users happy in my job.
This is because, in the case of products made by machine manufacturers, it is difficult for us engineers to receive users' voices and reactions, but with internet services provided by IT companies, what we create is immediately reflected in the market. I also wanted to deliver services that I'm involved in to as many people as possible, so I decided to join Rakuten Group.
--I know there must have been some difficult times joining the company without a programming or computer science major, but how did you go about your work?
I didn't even have the basic knowledge of how internet services are created in the first place. However, with the dedicated guidance and support from my supervisors and mentors, I was able to participate in very small parts of projects at first, learn step by step, and gradually work on large, high-level projects.
Moreover, I joined the company just after the decision was made to make English the official language, so I had to study English in addition to studying about internet services required for work. I actually had to use English to communicate with the engineers, but I think some parts of the conversation were not yet a conversation. However, I was saved by the engineers' high level of understanding as my own English skills improved little by little. I try to communicate more closely than others so I can cover my lack of English skills.
Powerfully leading the team as a Product Manager after two maternity/childcare leaves
--Please tell us about your career since joining the company.
Ever since I joined the company as a new graduate, I have been consistently involved in the development of Rakuten GORA. For the first four years after joining the company, I worked as an engineer on small to medium-sized projects, and for an year after that, I worked as both an engineer and producer, doing everything myself from requirement definition to development and release.
I then gave birth to my children and went on maternity leave, and now I have been a Product Manager for three years. Currently, I am involved in the development of new services as well as the modification of existing systems.
--Can you tell us about your work as a Product Manager and what you find rewarding about it?
My team is not only working on the modification of existing systems, but also on the development of new services such as Rakuten Golf Club (in Japanese only) and Rakuten GORA Lesson (in Japanese only) and UI improvements. I find it rewarding to be able to challenge myself in new areas while utilizing my past experiences.
As a Product Manager, my role is to work with engineers to propose new development projects and determine requirements, while at the same time checking the progress of other projects that members are working on and resolving problems. Many of the members are young and have knowledge that I don't have, so that is a great learning experience for me.
--Katsuo, your team relatively has many female members. Is there anything you keep in mind when leading your team?
My team is cheerful and has lots of power. There are times when we face difficult issues, but I try to smile and say, "Let's do it!" I try to keep the team positive by being positive myself.
In the future, I'd like to become a manager. I'm currently working with and supporting young Product Managers as a leader, but I'd like to improve my management skills and work on human resource development while looking at our services from a broader perspective. I still have little experience both as a Product Manager and as a leader, but I hope to do my best while balancing work and family commitment at Rakuten Group, where many female employees are playing an active role.
Rakuten Group's environment supports those who want to do their best in both work and child-rearing
--Katsuo, I believe that many women will be encouraged by your story in terms of balancing work and child-rearing. Can you share with us your thoughts on work-life balance as a working mother?
In fact, my husband transferred to the U.S. alone this spring, so I need to handle housework and take care of my children completely on my own. So now, instead of being too hard on myself, I ask my reassuring team members or understanding supervisors for help as soon as possible when I sense overwork. Work is important, but I also try to protect myself and my family.
--Do you use Rakuten Group's childcare-related benefits?
Yes, I make great use of it. For example, the shift work system introduced during the COVID-19 pandemic continues to help me. Without shift work, for example, if I want to take an hour off for a school gathering, I will have to take the full afternoon off. But with shift work, I can start work an hour early to get an hour off, so I can work at my own pace, adjusting hours as I go.
In addition, Rakuten Group has an in-house daycare center, Rakuten Golden Kids. Because it's in-house, it can flexibly provide extensions in case of unscheduled emergencies that prevent me to pick up my children. It also has Labor Day, an opportunity for the children to visit the office where their parents work and see and understand our work. This pleases me, and I think it's an event that is unique to our in-house daycare center. In these ways, I get more support in bringing up my children than a regular working mom, and I am grateful that I can focus on my work.
--Lastly, can you give a message to those who want to develop their careers while raising children?
I sometimes meet people who have given up on work because they find it difficult to work when they are raising children, but at Rakuten Group, there is an environment where they can do their best in both work and raising children. If you have the desire to deliver the service you created to many users, I hope you will take the first step.
Katsuo, thank you for your story as a working mother! We look forward to your continued success!
Come work with us!
Leisure Product Department (LPD) is looking for colleagues to join our team in developing new services, performing daily operations, and making improvements! Recruitment is open for a wide range of positions, including engineers and product managers. We look forward to your application.